Don't Waste any More Time Searching for an Effective Weight Loss Solution
Lose Your Excess Pounds and Learn how You can Maintain a Stable Weight
With the Ideal Protein Weight Loss Method, not only can you lose weight, but once you lose your excess pounds you may experience improved health benefits. Our dieting method is a three phase weight loss protocol combining smarter eating education with gimmick free, sensible weight loss.
Contact us Today and Ask About Your Initial Weight Loss Assessment. Our Medically Developed Diet Protocol can be Tailored to to Just About any Individual Regardless of Your Weight Loss Goals
The Knowledge to Make Better Lifestyle Choices and a Smarter Eating Education
The Ideal Protein Weight Loss Protocol is a medically developed weight loss method with a balanced weight maintenance plan built right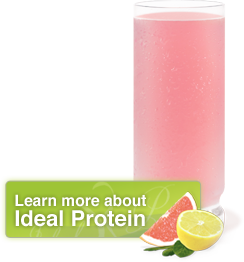 in. The four phase diet protocol is a journey of hope and enthusiasm with two core components – weight loss and weight maintenance. Here's a small sample of some of Ideal Protein's key benefits:
Doctor derived, structured weight loss protocol;
A variety of Spicy, Sweet and Salty gourmet foods;
Gimmick free weight loss program that also teaches smarter eating to sustain post diet lifestyle changes;
Over a decade of success;
Losing weight can improve blood sugar levels;
One-on-One weekly coaching to educate and motivate you;
and Much More!
Not all weight loss plans are created equal. Click here to discover the Ideal Protein difference. 954-942-8418
Our medically developed weight loss protocol and smarter lifestyle choices education offers dieters what they really want…a structured program that can put an end to constant dieting.
Business Hours
Monday
8:30am - 12pm and 2:30pm - 6pm 
Tuesday
8:30am - 12pm
Wednesday
8:30am - 12pm and 3pm - 5pm
Thursday
8:30am - 12pm
Friday
9am - 2:30pm
Saturday
call for schedule 
Sunday
closed 
Ideal Weight Loss of Pompano Beach is Authorized to Use the Ideal Protein Weight Loss Protocol and Products. The testimonials on this website are those of the individual that is identified, you should not necessarily expect to receive these results. Typical results vary from person to person and individual to individual when the Ideal Protein Weight Loss Protocol is followed properly. You should consult your physician or other health care professional before starting this or any other diet program to determine if it is right for your needs.
1701 NE 28 Street Pompano Beach FL 33064 – Phone: 954-942-8418
Copyright © 2018 Ideal Protein All rights reserved.